On-Premises or Cloud CRM – Which is Right for You?
Did you realize that the base starting point for similar leading subscription based CRMs is over $100/user/month! For comparable functionality with GoldMine's CRM, you can own-it and save over 70% right now. Our Cloud offering is even almost 50% less per user per month plus you can run other applications including add on products for free (must own  license) and just a small incremental fee to add Microsoft Office 365.
We would like to encourage you to check out the new release of GoldMine's CRM – 2017.1. We are dedicated to being Simple, Affordable and Proven. We helped pioneer the CRM industry and we have been around more than 25 years.
SAVE UP TO 70% – When you own it, compared to other CRM providers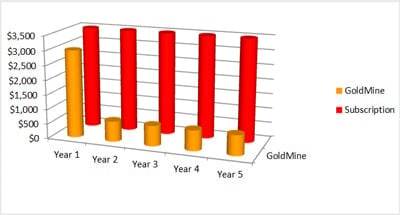 Special Deals and Offers: 
If you are looking to add more seats or install new software, contact us today to learn more about our current offers or special deals.