Webinars
Sign-up to participate in our live events with best practices, helpful tips and product demos. Make sure to reserve your seats in advance.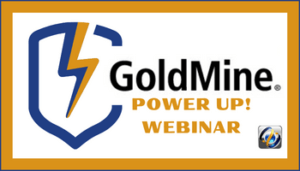 Thursday, February 24, 2022 – 2pm EST

Next up is the second in our three-part PowerUP! webinar series – GoldMine 102.
Our GoldMine PowerUP! "GoldMine 102: Unlock the Value of Your GoldMine" will provide the basics you need to know to get the most our our your GoldMine setup.  Just like 101, this event is great for prospects and customers alike to learn more about managing the contact and activity management features of GoldMine.
You can register for the other series events below.
Thursday, March 17, 2022 – 2pm EST

Next up is GoldMine 103, the third in our three-part GoldMine 2022 PowerUP! webinar series.
Our GoldMine PowerUP! "GoldMine 103: GoldMine's Business Productivity Tools" will explore some of the integrations to improve the business productivity of your users.  We will walk you through our Microsoft Office integrations of Word, Excel, and Outlook.  We will also include our Constant Contact integrations and our GoldMine Connect for web access.  This event is great more about extending GoldMine to improve business productivity.